Thanks to Calysta for
all of her ideas and
support.




More than anything else, this site would not be here if not
for the wonderful world of Lensmoor. I have spent countless hours
there with Caen, as well as other characters. It is just amazing
what Arawn and the rest of the staff have done with this place.
Please check it out if you haven't already.


I have to give a special thanks to Mats Holmgren.
The artwork on the cover page was done by him and he was so kind
as to let me use his work. Please take the time to check out his gallery
on Elfwood. He and the other artists here had me awestruck.


All the heddings on this site were created at FlamingText.com.
If you like the headings on this site, or even if you don't, check them
out because they have such a variety, you'd be hard pressed to not
find something that you'll like.
Check out these other
great links!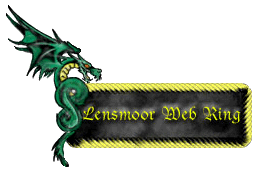 This Lensmoor Webring site owned by Caen.
[ Previous 5 Sites | Skip Previous | Previous | Next | Skip Next |Next 5 Sites | Random Site | List Sites ]